After some heavy reading today, I decided we all needed a little levity ca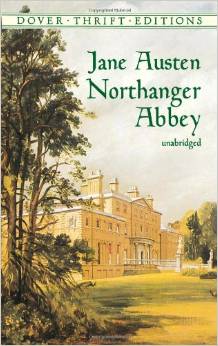 re of Jane Austen. Again we visit Northanger Abbey in which we find the … well, "villain" isn't quite the right word for John Thorpe. What's a word for loud-mouthed braggart? For that is John Thorpe.
Here is his inauspicious introduction:
"He was a stout young man of middling height, who, with a plain face and ungraceful form, seemed fearful of being too handsome unless he wore the dress of a groom, and too much like a gentleman unless he were easy where he ought to be civil, and impudent where he might be allowed to be easy." (Ch. 7)
In the next passage, change "equipage" [horse and carriage] for "automobile" and you'll see that men spoke similarly of their transportation before and after the industrial revolution:
"Thorpe's ideas then all reverted to the merits of his own equipage, and [Catherine] was called on to admire the spirit and freedom with which his horse moved along, and the ease which his paces, as well as the excellence of the springs, gave the motion of the carriage. She followed him in all his admiration as well as she could. To go before or beyond him was impossible. His knowledge and her ignorance of the subject, his rapidity of expression, and her diffidence of herself put that out of her power; she could strike out nothing new in commendation, but she readily echoed whatever he chose to assert, and it was finally settled between them without any difficulty that his equipage was altogether the most complete of its kind in England, his carriage the neatest, his horse the best goer, and himself the best coachman." (Ch. 9)
Several years ago I read Northanger Abbey as part of a Group Read on Pemberely.com, during which it was debated whether or not John Thorpe actually cares for the heroine, Catherine Moreland. The text debated was the following paragraph where Thorpe seems to be at a loss for words while addressing Catherine.
"That is kind of you, however — kind and good-natured. I shall not forget it in a hurry. But you have more good nature and all that, than anybody living, I believe. A monstrous deal of good nature, and it is not only good nature, but you have so much, so much of everything; and then you have such — upon my soul, I do not know anybody like you." (Ch. 15)
John Thorpe loss for words in this little speech appears that he might actually have some real feelings for Catherine. While I've never read it that way, a few others participating in the Group Read did. However, I don't think he has a loss for words; he – for once – is actually able to put a filter on his mouth and doesn't say the words that he is thinking. Here's my reading of this speech:
"That is kind of you, however — kind and good–natured. I shall not forget it in a hurry. But you have more good nature and all that, than anybody living, I believe. A monstrous deal of good nature, and it is not only good nature, but you have so much [money], so much of everything [– Lord knows I want more of everything]; and then you have such [an inheritance to look forward to from Mr. Allen] — upon my soul, I do not know anybody like you. [If I marry you, I get to control all your money and a good natured wife into the bargain. What say you? Shall we shack up?]" (Ch. 15)
Okay, okay, the "shack up" bit is my 21st century adaptation of John Thorpe. 😉