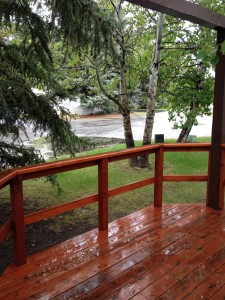 Today is Bike to Work Day and Bike to School Day in Idaho's Wood River Valley.
And it's raining. *whimper*
Hmm, since my writing office is at home, I'm already at work! But… but… that would be wussy. Terrible example for the kids.
"You're coming, aren't you, Mom?" asked my daughter.
"Yes! Yes, I am," I replied.
So, my business had 100% participation! And so did our family.
I am back home now. Pockets unloaded of swag, my wet bicycling things are hanging to dry. And I'm back in my fuzzy robe, warming up. All in a day's work, play, and parenting.