We find out what we really believe when it's time to teach it to our children.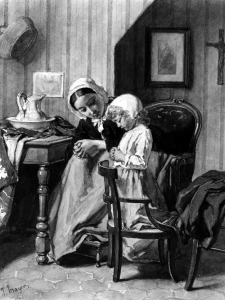 I am currently reading a book that's being taught to my daughter and a few other Middle School girls. Some ideas I agree with, some I don't. What strikes me in the various books I have been reading this past week is that followers of Jesus at different times and different places have prayerfully pondered His Word, or at least claimed to do so, and have written a wide variety of books. Many do not agree with each other.
So what's a mother to do when teaching The Word to her children?
From this week's Bible reading:
65 Do good to your servant
    according to your word, Lord.
66 Teach me knowledge and good judgment,
    for I trust your commands.
67 Before I was afflicted I went astray,
    but now I obey your word.
68 You are good, and what you do is good;
    teach me your decrees.
69 Though the arrogant have smeared me with lies,
    I keep your precepts with all my heart.
70 Their hearts are callous and unfeeling,
    but I delight in your law.
71 It was good for me to be afflicted
    so that I might learn your decrees.
72 The law from your mouth is more precious to me
    than thousands of pieces of silver and gold.
I woke this morning pondering the fact that God apparently allows His followers to be sincere and sometimes sincerely wrong. And so I pray: Lord, teach me your way and your precepts that I may walk in them.